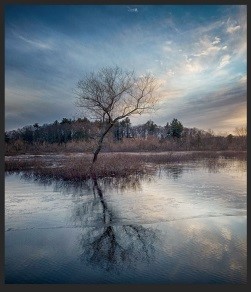 Be Not Anxious!  Living in the Peace of Christ.
We live in times of anxiety.  "Things fall apart," wrote the poet William Butler Yeats.  "The center cannot hold."  Or so it seems.  A recent newspaper headline shouted: "It's not just you; we're all living in the United States of Anxiety."  Indeed, we live in a social, political, and religious climate that is all too frequently angry, polarized, and fragmented. A tough time to be an authentic Christian! But one brimming with opportunities.
More than 2,000 years ago, the Apostle Paul lived in turbulent times of his own.  Nevertheless, from a Roman prison cell, Paul encouraged his beloved Philippian community against fear, worry and doubt.  He penned words of peace.  While shackled to a cold wall, Paul wrote them a letter of joy and consolation. These words were delivered through the lips of others, just as we are called to do so today.
"Rejoice in the Lord always!  Again, I will say it; rejoice.  Be anxious for nothing.  But in all things by prayer and petition, with thanksgiving, make your requests known to God; and the peace of God which surpasses all understanding will guard your hearts and minds through Christ Jesus." (Phil 4:6-7).
Paul's message is a message for us and for our times.  It is the theme of this year's retreat season: "Be not anxious!  Living in the Peace of Christ."
But where do we find God's promise of peace?  Scripture is our compass, our starting point.  We will study Paul's letter to the Philippians and other scripture passages. We will internalize the messages so we own them in our hearts. We will examine the barriers, those issues that hinder God's peace in our lives.  Do joy and peace elude us?  Why and when?  How can Christ give us peace of mind, of body, soul, and spirit? Christ's limitless love paves a road we can follow.  The peace of God which surpasses all understanding can heal our pain, can rub the healing balm of love on our sorrow and worry, and more.  The beatitudes are a perfect model for us living in an "anxious world" and can deliver internal peace by Living the Word from the center of our soul.  The peace of God can break our shackles of anxiety and free us to rejoice always!
Join us in a journey to discover the joy of unshakable inner peace; and its source, the Risen Christ.