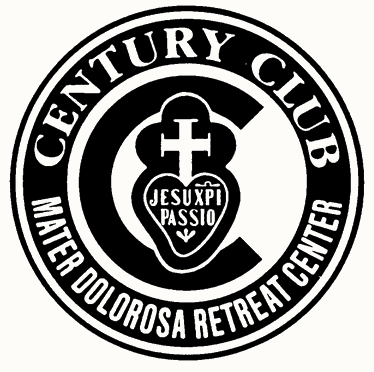 What is the Century Club?

The Century Club is an annual donors 'club that began in 1986 as a means for supporting enhancements to our retreat facilities. The Century Club has flourished into a well-established group of steady, loyal and generous benefactors whose contributions are dedicated to the maintenance and improvement of Mater Dolorosa as a place especially conducive to meeting the Lord.
Who are the Members?

Mater Dolorosa has been blessed for over 25 years with the support of generous Century Club Members. Members are individuals or married couples who are retreatants or friends of Mater Dolorosa and who desire to share in the retreat ministry of the Retreat Center by making an on-going financial commitment to this work. Membership is for one year and coincides with the retreat center fiscal year of July 1 through June 30.
How are the Proceeds Used?
The proceeds from the Century Club are used for ongoing maintenance, repairs and improvements to the Retreat Center and grounds. It is important that retreatants are able to spend time in a calm, relaxing and prayerful atmosphere that is conducive to their spiritual growth.

What are some examples of projects contributed to with Century Club funds?
In compliance with ADA standards, we were able to add ramps in the lobby area and in the outside portico between the Chapel and the lobby making it much easier for our retreatants and guests with mobility problems.
New air conditioning units in the west end rooms.
Replacement of old kitchen equipment and appliances.
A new and safer main entrance to the Retreat Center.
Brass handrails in the Chapel.
What are the benefits of membership?
The most important benefit of membership is the knowledge that your contribution is being used to further the retreat ministry at Mater Dolorosa.
Weekly remembrances in Masses and prayers.
An annual Mass and reception is held in honor of all Century Club members.
Each new Century Club member receives a Century Club pin.
What Are The Obligations Of Membership?

Members of the Century Club agree to donate $100 or more a year in addition to their retreat weekend donation and to remember the Passionist retreat work in prayer.
What are the Century Club levels of giving?
There are six levels of giving in the Century Club:
Donor Level $100 to $249.99
Sponsor Level $250 to $499.99
Patron Level $500 to $999.99
Ambassador Level $1,000 to $2,499.99
Advocate Level $2,500 to $4,999.99
Steward Level $5,000 or more
Are Century Club Donations Tax Deductible?
Yes, all donations to the Century Club are tax deductible as charitable contributions.
Can Century Club Donations Be Made In Payments?
Yes, Century Club payments can be spread throughout the year at your convenience. Acceptable payments are MasterCard, Visa, American Express, Discover Card, Cash or Check and can be made by calling the retreat center, via mail or through our secure website. We do not send reminders, but we will keep accurate records of your payments.
How Can I Join The Century Club?
Membership in the Century Club is available to anyone interested in the Passionist retreat ministry and mission at Mater Dolorosa. We have three convenient ways for you to join: online, by phone or by mail.