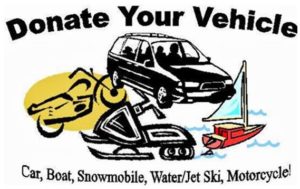 Has your car, van or truck served its purpose?
If so, won't you consider donating it to Mater Dolorosa Passionist Retreat Center?
If you have a car or other vehicle you no longer need, please consider Mater Dolorosa as the recipient of your donation.  Any age ~ any condition!  Give us a call.
We will make the contact, your vehicle will be picked up, and all the details will be handled for you.  Proof of your donation will be provided for your tax records.  Invite your family and friends to participate in this worthy program.
FREE TOWING and your donation is TAX DEDUCTIBLE!!
Types of Vehicles we accept. 
Many types of motor vehicles are accepted including boats, motorcycles, trucks, cars, motor-homes, and airplanes. If you are uncertain as to whether or not your vehicle is eligible, please contact the Mater Dolorosa Development Office at (626) 355-7188.
Does my car have to be running to donate it?
No. In most cases we can take your car, running or not. The car must have an engine and be towable. Contact a representative at (626) 355-7188  to find out if your vehicle qualifies for pick-up.
How long will it take to pick up my vehicle?
All vehicle donations are processed as quickly as possible, and we make donating your car as simple and convenient as possible. In some cases, if we receive your call early in the day, a same-day pick may be available.
Do I have to be with the vehicle at the time of pick-up?
No. Special arrangements can be made.
What paperwork do I need?
The only paperwork needed is a signed, clear title. Please have your title with you when you call in your donation. A clear title indicates the title is in the name of the donor without a lien.
Will I get a tax receipt for my donation?
Yes, you will receive an IRS Form 1098-C  in the event that the sale of the vehicle exceeds $500. If the vehicle does not exceed $500, the thank you letter that you will receive can be used as a tax receipt.
How does the tax deduction work?
You can deduct the value of the vehicle only if you itemize deductions. A receipt indicating the vehicle sales price will be sent to you within a few days after the pickup of your vehicle. Please consult a tax professional for specific information.
What can I claim as a deduction?
According to the current tax law, if the claimed value of the donated vehicle exceeds $500, the taxpayer is limited to the gross proceeds of the sale. An IRS Form 1098-C, "Contributions of Motor Vehicles, Boats, and Airplanes" will be mailed to you within 30 days of the sale stating the amount of gross proceeds received from your car, provided your vehicle sold for more than $500 and you have submitted your social security number. This will be your tax receipt for your charitable contribution.
How is the value determined on the vehicle donated?
The value is determined by the gross proceeds raised from the sale of the donated vehicle.
Contact:         Jeanne Warlick, Development Director
(626) 355-7188, Ext. 103
jwarlick@materdolorosa.org