November 22, 2022
Here we are again, once more on the threshold of yet another year, with all the challenges we have encountered still close in our memories. Covid-19 does not seem to want to leave us completely, but our coping mechanisms and the grace of God have helped us through one more year.
Soon, we will be entering the third year of this pandemic, and our ability to manage has been a strong reliance on our faith. In our coming year, we look to renew our Christian faith by examining our relationship with God and how the divinity within us has made our journeys possible, particularly during challenging times.
We have all lost family and friends during this time, and we remembered and mourned together. Unfortunately, the Covid-19 restrictions limited how we could offer retreats and prayer experiences, so we changed our programs to connect once more. The needy cried out for our help, and through your prayers and donations, we have fed the hungry. All of these changes have bourne with them new highs and lows, our work together has increased, yet the pressure on our resources remains high; in human, spiritual, and financial gifting.
We want to thank you from the bottom of our hearts for your support and prayers during this time. We continue to try and rebuild the visitor base coming to the retreat center. While we are grateful for those who have been able to come, the shortfall in visitors to our weekend retreats has reduced them to almost a third of pre-Covid years. This of course has created immense additional financial pressure on the center.
Through your financial support, we have been able to keep all our staff on board in readiness for an increase in retreatants as Covid-19 finally subsides. We have also been able to continue our Food Ministry work, albeit at a reduced level from the height of the pandemic. We have produced over 125,000 meals since the beginning of the program, which has helped thousands make it through one of the biggest hurdles in our history.
Mater Dolorosa continues to try and reach out, not just in practical terms with the Food Ministry, but with our retreat ministry despite the financial pressures upon us.
The need for wellness and spiritual retreats has never been greater in our nation. Polls and surveys continue to illustrate why everyone is looking for that extra "inner peace" that can only come from God.
Our Charism at this Passionist center is steeped in the memory of the Passion of Our Lord, Jesus Christ. The spiritual "tag line" of the Passionists throughout the world is:
"May the Passion of Jesus Christ be Always in Our Hearts"
These words are emblazoned in all we strive to do at Mater Dolorosa and elsewhere. Our retreat theme this year invites us all to examine how this is lived out. Who is Jesus Christ? Who Am I? Finding the Divinity Within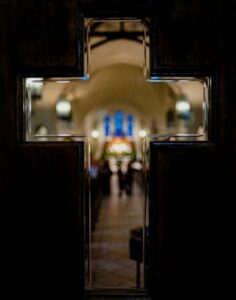 The image shown here is used in this year's retreat theme to illustrate the relationship. We often try to discover the complex relationship between ourselves and Jesus Christ. We want to know what it should be, how deep it should be, what does Christ want of us, is Christ within us, and if so, where can we find the divine within us? Our retreat attempts to explore all such questions and provide a deep dive to help discover where Jesus Christ resides deep inside us.
This retreat will lay paths for this exploration, and we invite you to join us on this epic adventure to the interior of our souls. Our retreats started, as usual, in September 2022.
We are extremely grateful for the donations that have kept us up and running during this extended period that has upended all our lives and retreat operations. The level and rate at which we have had to deplete our reserve funds have increased concern to many overseeing our financial situation. Here is what the Chair of our Board of Directors, Filippo Fanara, has to say on the matter.
"Mater Dolorosa, its staff, and supporters have responded generously at our time of need. However, this time is not over, just as the pandemic and its lingering effects remain with us. Our plans to provide spiritual nourishment have increased as a result of trying to normalize our lives from the effects of isolation. Please help us continue to fulfill our mission with your love and support. Your generous hearts and hands have never been more needed."
Let us keep each other in prayer during this time. We hope you have a blessed Advent and Christmas season and, of course, a safe and blessed New Year. If you can make an offering to us to keep our ministry vital here at Mater Dolorosa, we would be very appreciative, but in any case, please keep us all in your prayers.
In Christ's Love,
Dr. Michael Cunningham O.F.S.
Retreat Center Director
Fr. Bruno D'Souza C.P.
Local Superior
P.S. For tax purposes, year-end donations must be received in the Retreat Center Office, postmarked, or made online no later than December 31, 2022.
If you are interested in supporting Mater Dolorosa with a monthly donation, please visit us at https://materdolorosa.org/monthly-giving/
For more information on supporting Mater Dolorosa please contact Melanie Goodyear, Director of Development (626) 355- 7188, Ext 103 or MGoodyear@MaterDolorosa.org