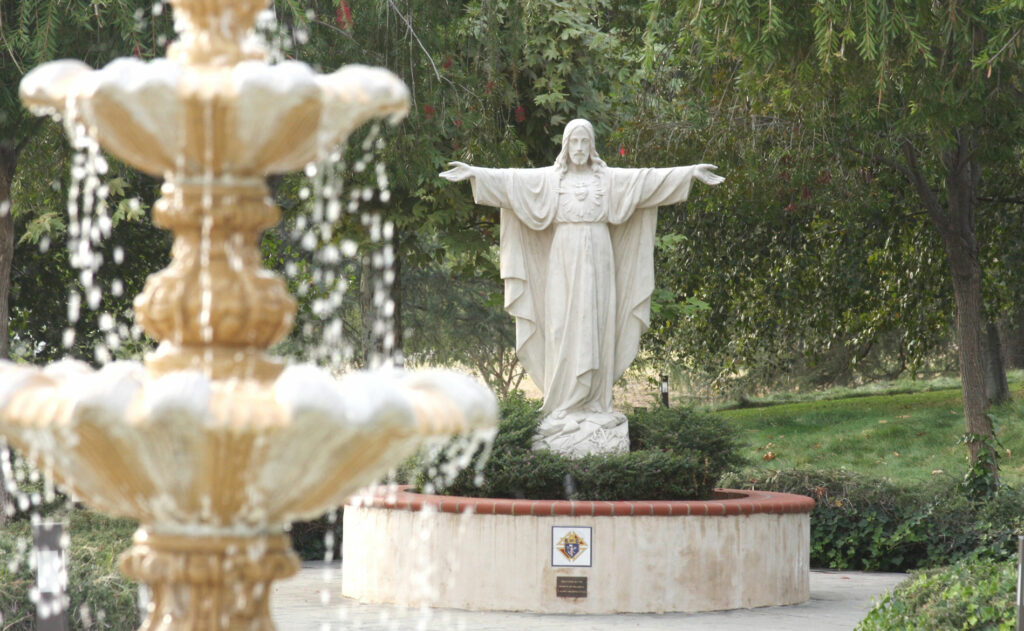 As we stand on the doorstep of 2022, we look back on the second year of Covid-19 and all the physical, economic, and emotional challenges we have encountered. And yet, with the grace of God, we have prevailed. 
During this second year of what many of us thought would be over much more quickly, we have leaned into a gift from God we sometimes have forgotten. The great gift of Hope. During our journey together as Mater Dolorosa spiritual family members, we have experienced all the highs and lows, yet Hope has never left us. 
We have all lost family and friends during this time, and we remembered and mourned together. Unfortunately, the Covid-19 restrictions limited how we could offer retreats and prayer experiences, so we changed our programs to connect once more. The needy cried out for our help, and through your prayers and donations, we have fed the hungry. All of these changes have bourne with them new highs and lows, our work together has increased, yet the pressure on our resources remains high; in human, spiritual, and financial gifting.
This year, perhaps more than any other, has shown us that God's gift of Hope illustrates what happens when we have the confidence to believe He will be there for us, that broken hearts are opened and healed during these times, and that we should never despair.  
While we remain humble in our disposition towards God, we also should recognize the gifts and rewards showered upon our ministry during these times. Another year of the pandemic has seen the schools leave us and return this fall. The sight of smiling faces greeting each other in fellowship illustrates how much our young people need the belonging of being together. The return of the Passionist retreats to an indoor setting, albeit with restrictions, has renewed our faith and showed that a pathway is always open, no matter how difficult the changes. If we are willing to make a move and have a change of heart, it may not be the same as before the pandemic, but the fellowship and spiritual nourishment are still there in the living well of Passionist spirituality at Mater Dolorosa. 
We are so grateful for your support of the ministry here at Mater Dolorosa, but there is much more to do. This year we have continued to deliver increased online programs for retreats, Eucharistic celebrations, online prayer groups, and coming soon, more online prayer and reflection opportunities. 
Our food ministry continues to provide needed meals for those vulnerable or without homes in our region, with our total meal count almost at 90,000 meals—an astonishing accomplishment. 
Despite this being another year forever associated with the pandemic and its challenges, we have avoided staff layoffs and kept the lights on.  With the dramatic decline in retreat and hosted group attendance, our team has been re-assigned to help other areas such as our Food Ministry and other activities. Financial hardship is common these days for many individuals, families, and businesses. Mater Dolorosa has not escaped either. The upkeep of the retreat center and grounds still requires many hands and continuous income.  Our proceeds from retreats, which of course, you know, are based on what individuals can afford, continued to a much smaller portion of our regular income. In the meantime, our food ministry continues to need support. The need for these meals has surged as pressure on food banks, the vulnerable, and those without shelter have increased. 
While we are extremely grateful for the donations that have kept us up and running during this extended period, the level and rate at which we have to deplete our reserve funds have increased concern to many overseeing our financial situation. Here is what the Chair of our Board of Directors, Filippo Fanara, has to say on the matter. 
"Mater Dolorosa, its staff, and supporters have responded generously at our time of need. However, this time is not over, just as the pandemic and its effects remain with us.  Our plans to provide spiritual nourishment are just as strong as ever. Please help us continue to fulfill our mission with your love and support. It has never been more needed."
Let us keep each other in prayer during this time. We hope you have a blessed Advent and Christmas season and, of course, a safe and blessed New Year. If you can make an offering to us to keep our ministry vital here at Mater Dolorosa we would be very appreciative, but in any case, please keep us all in your prayers. 
In Christ's Love, 
Dr. Michael Cunningham O.F.S.
Retreat Center Director
Fr. Michael Higgins, C.P.
Co-Director Passionist Programming