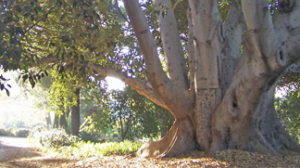 The site of Mater Dolorosa Monastery and Retreat Center was acquired by the Passionists in 1924.  It was an 83 acre plot, at an elevation of about 1200 feet, originally called Monte Olivette, commanding a sweeping view from Los Angeles central city to the eastern limits of the San Gabriel Valley.  Behind the retreat center, the San Gabriel Mountains rise sharply.  Some Passionists resided at St. Rita's Parish in Sierra Madre, where Passionists served from 1923 until 1951.  Others lived at a farm house on the property.
The first retreat at Mater Dolorosa was preached under the "old rubber tree," a Moreton Bay Fig, which still stands on the property.  Mater Dolorosa Monastery, dedicated in 1932, was the first in Holy Cross Province to be constructed precisely for a men's retreat movement.  The community lived on the second floor, and the retreatants occupied the first and third floors.  By 1950 they had outgrown the space and a separate structure was built uphill from the monastery.  The new structure brought the capacity to 70 retreatants on a weekend.  Additional expansion took place in 1985, adding another 17 retreatant rooms, two meeting rooms, and living space for the retreat director and those on extended personal retreat.
In 1991 an earthquake devastated the monastery and it subsequently was demolished.  In its place a beautiful Monastery Memorial Gardens was created in 1999.  This area consists of the Garden of Seven Sorrows, the Plaza of the Sacred Heart, and an amphitheater.  Following the earthquake, the Community lived in the former convent at Assumption Parish in Pasadena, but now have returned to live in the Retreat Center.  From the Community residence, Passionists serve as the retreat team, in parishes and other ministries within the Archdiocese.
Mater Dolorosa has been providing retreats since 1926. The program has expanded over the years, and today retreats are offered for men, women and married couples in English and Spanish. Hosted programs are available for high school groups, other Catholic programs as well as many ecumenical groups
Today, more than 10,000 individuals grace the retreat center and grounds annually which includes men, women married couples, people in 12-step and AA recovery, Archdiocese of Los Angeles clergy and lay persons, high school and college students, faculty, Mass participants and visitors to special events.
Additionally, 2,500-3,000 people visit on Good Friday to walk and pray our uniquely beautiful Stations of the Cross.