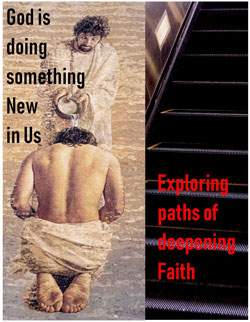 "Remember not the events of the past. The things of long ago consider not.  See, I am doing something new! Now it springs forth, do you not perceive it?"   Isaiah 43:18-19
What a bold proclamation, this prophecy of Isaiah.  Indeed, it may be so bold, so brash, as to be nearly unbelievable.  Yet, it is true.  God is doing a new thing in each of our lives.  The question then is this: can we see it?  Our honest response may range from "No, I don't see it" to "I think I see it, but I'm not sure," or even "what is this 'new thing' in my life that I'm supposed to be seeing?"

The challenge is to be open, ready to listen, ready to surrender to God's love, God's Spirit at work within us.  God is doing a new thing in our lives, in our journey of faith.  As we gradually open ourselves to that love, God becomes more perceptibly present to us. God often works in the most unexpected ways.  We must also be watchful and attentive to those new ways, those new things God is doing in our lives, and to follow them.
Where then do we find these paths that can help us deepen our faith?  This retreat will suggest a variety of ways to explore those familiar spiritual journeys and to discover new ways of encountering God during this weekend filled with sacred silence. Pierre Teilhard de Chardin reminds us we are spiritual beings having human experiences, yet we are often unattuned to the truly sacred nature of our lives.
The retreat weekend will offer time for meditative prayer, silence, and conferences to assist us in developing our relationship with God in our everyday lives; in short, a pilgrimage of the heart. The call to discover this new thing God is doing in us is a bold and exciting one; a call that deepens our faith lives. Through prayer, instruction and examination of the mystical nature of our lives, we will walk this journey together as we respond to God's beckoning in our spiritual journey.
If this is your first time attending a retreat at Mater Dolorosa we have a beautiful sacred space which has become a special place of spiritual renewal over the last 96 years. Take a look at the beautiful grounds to gain a glimpse of what you might expect on your visit with us.
https://youtu.be/mAoVeEmMK8Q