Lent 2019 – A Season of Grace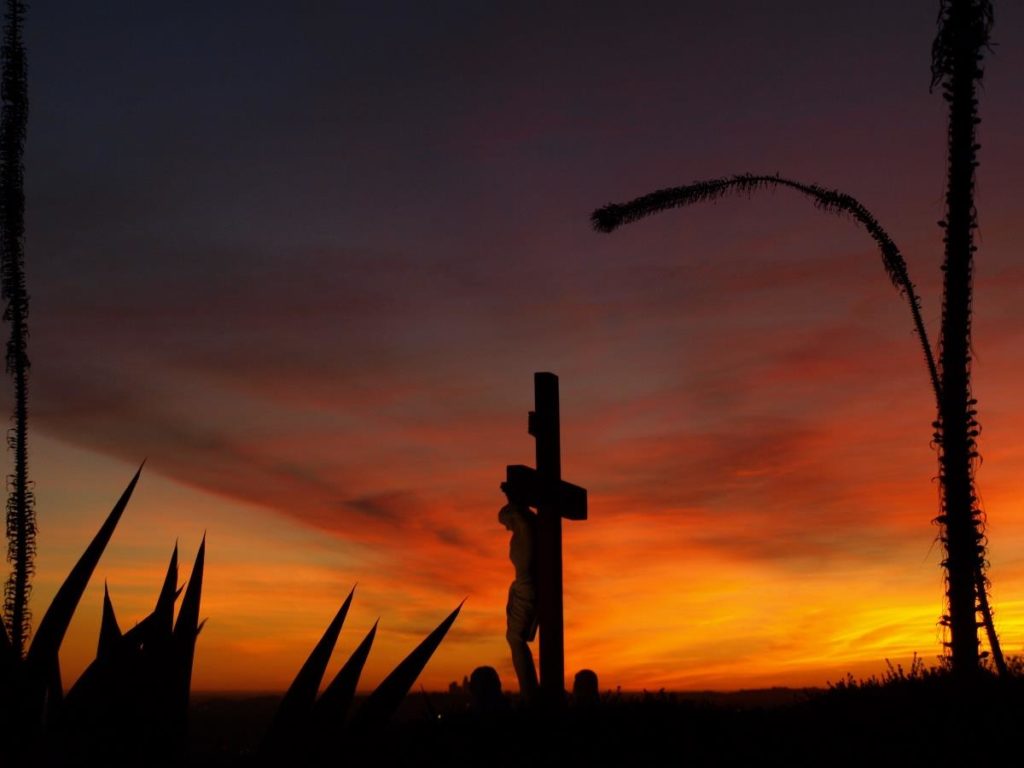 This year Lent began on Ash Wednesday March 6th and continues until the Easter Triduum Thursday April 18th-21st. Lent originally began as a short retreat for those entering the church as well as those being baptized/confirmed as Catholics. This retreat was lengthened to its present 40 days (excluding Sundays) and was broadened to include all of the Christian faithful. Now millions journey together with those joining the Church in a Lenten "retreat." Just as Jesus retreated in the desert and confronted evil, so we must take a good look at who we are and where we need to grow.
Retreats are times of initial and on-going conversion. For those joining the Church in whatever capacity, it may be a time of initial surrender to Jesus Christ. Perhaps they will taste God's love for the first time and experience radical change. For we disciples who have been following Jesus for however long, it can be a time of re-dedication and on-going conversion. We can re-surrender our lives to Jesus and re-dedicate ourselves to our God-relationship, personal growth and achieving our potential.
What is a retreat?
God: Retreats are times to pray and stand before God in honesty. Perhaps the number one thing you can do this Lent is to simply be with God. Read the Bible and other spiritual books. Simply "be" – apart from TV, computers and iPhones. Get quiet. Seek God in stillness. Cultivate quiet. Pray from your heart with rigorous honesty. We don't know how to pray as we ought, but as we trust the Holy Spirit, we will be led and guided into fresh new times of prayer that issue in gracious moments of intimacy.
Integrity: Retreats are also times to face our issues. Like Jesus, we must come face to face with evil. We must confront areas of pride and sin. When Jesus went into the desert for 40 days even he was tempted. What is your greatest temptation? Where do you sin? Don't live in deceit and denial. Be fearless, real and look within. Be rigorously honest with yourself and examine your conscience. Are you addicted? Is there anything mortal and habitual? Are you willing to make a move and allow God to take over your heart? We begin Lent with the stirring words, "Rend your hearts, not your garments…" In other words, radical interior conversion leading to exterior change is what God desires. Humble yourself and celebrate reconciliation.
Holiness: Along with turning away from the negative, we must pursue the positive. The goal of our life is to become "like Jesus." We must strive to have our mind renewed and become positive – leading to infinite possibilities. One of Jesus' favorite sayings was, "All things are possible for God." Attitude is an aspect of holiness. We can have stable emotions and not be flighty based on circumstances. We can become courageous, patient, kind, merciful and live lives of integrity. We must see virtue as a highly prized goal and be willing to recognize our circumstances for what they are and strive to enter the narrow gate. It is by patient endurance that we will "win" our souls; and perseverance, as well as an unshakable faith, are rare treasures God desires from us. Growth, maturity, incremental change and progression is what the journey of Lent is all about.
Fruitfulness: In addition, "power thinking" means you strive to realize your potential. You are gifted and, more than that, God is with/in you. Because you are so highly favored, the sky isn't the limit…Reach for the stars! Do the impossible. Achieve your destiny. Work at becoming all you can be. Dig deep and realize your dreams. You will never know what is in you if you aren't willing to try. Don't be afraid of launching out into the deep and risking. A ship in a harbor is "safe," but ships were made for the wide-open ocean. Fortune favors the brave. Don't be afraid of good, old-fashioned hard work. God wants to use you to touch people. You will discover who you really are as you trust
God, work hard and become. Catherine of Sienna said, "Be who you were meant to be and you will set the world on fire!" I'm fond of quoting, "Who you are is God's gift to you. Who you become is your gift to God."
Michelangelo said, "The greater danger for most of us is not that our aim is too high and we miss it, but that it is too low and we reach it."
What really matters:
Concentrate on these three areas:
Your relationship with God;
Your personal development;
Realizing your potential.
Your potential should lead you to reach out and help people. Treating people well is what Lent is all about. Doing this will make your Lent significant, revolutionizing, and transformative. You will not only be prepared to celebrate Easter with those joining the Church, you will have already experienced Easter as you journey!
While Lent is a penitential season of prayer, almsgiving, and fasting meant to help us to grow in generosity and self-control, Lent is mostly a season of grace. Grace is God's – freely-given – supernatural help to empower us to do what we could never do on our own. Because of God's initiative, we can pray intimately, change profoundly, and develop exponentially. Believe in God's goodness and there will be no limits to the forgiveness, transcendence and potential you will realize.
I love retreats because anything and everything can happen! They are times of rest and renewal. The season of lent is a time to be re-energized. Expect great things! God is working in your life. Because of this season of grace, you will never be the same…Be assured of my prayers for you… ~ Fr. Cedric
Watch: "Live with Passion" during Lent
EWTN TV Sat. 8:30 pm; Sundays 11:30 am.
Listen: EWTN Radio Sundays at 1:30 pm PT.
Fr. Cedric Pisegna, C.P.