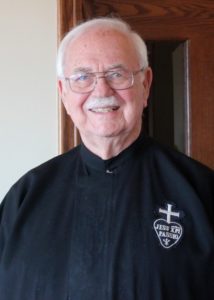 Born:  December 9, 1932
Professed: December 8, 1955
Ordained:  May 27, 1961
Died:  June 2, 2018

May Fr. Michael enjoy the
eternal peace and love of God.
May the Passion of Jesus Christ
be always in our hearts.
With Gratitude
and
Deep Sorrow
We Remember
Father Michael Hoolahan, C.P.
Wednesday, June 6, 2018
Mater Dolorosa Passionist Retreat Center
Sierra Madre, CA
Viewing:   6:00 to 9:00 PM
Wake Service:   7:00 PM
Thursday, June 7. 2018
St. Rita's Church
318 N. Baldwin
Sierra Madre, CA
Funeral Mass:    10:30 AM
Burial: Mater Dolorosa
Community Cemetery
Immediately following the
Funeral Mass
Luncheon served after the burial at
Mater Dolorosa – Possenti Hall.