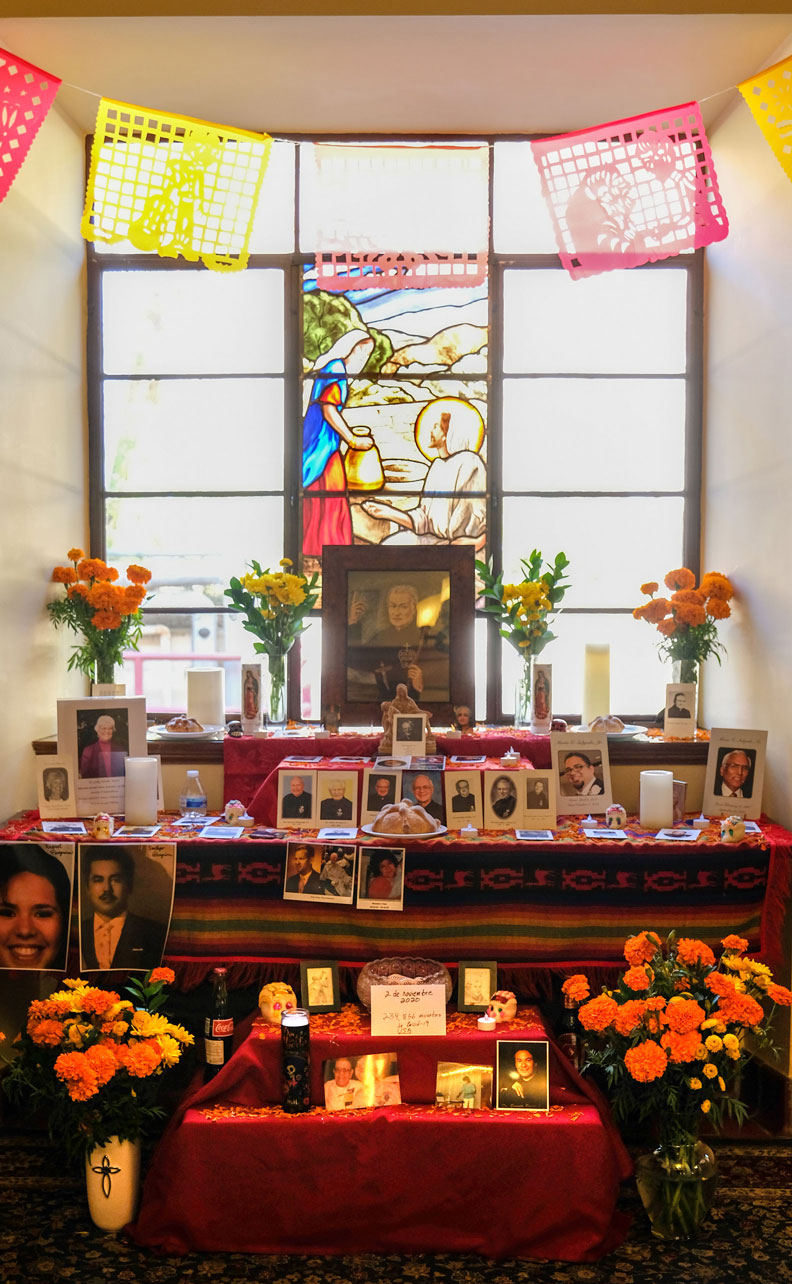 During the month of November, Mater Dolorosa Passionist Retreat Center, in collaboration with our Hispanic Ministry Office, is remembering the deaths of our faithful departed Passionists, friends and retreatants, an annual Catholic tradition. Many Spanish-speaking Catholic communities set up memorial shrines called, Altarcitos del Día de los Muertos, in their parish churches, homes and public places. Upon these Altarcitos, pictures and memorial cards and other memorabilia are placed among candles, flowers, foods and drinks. 
For our Altarcito at Mater Dolorosa, St. Paul of the Cross, our holy founder, occupies the place of honor. He is surrounded by Passionists who have served this community, as well as the names of friends and of retreatants and their loved ones who have preceded us in death. They are being remembered in our prayers. This year, moreover, our staff members have suffered recent family deaths and want us to remember them in prayer. 
We invite you to take part in our month-long memorial by sending us the names of your loved ones that you want us to include in our daily prayers and Masses as a Passionist Community. You can do this by sending us their names and we will place them on our Altarcito. Several of our Spanish-speaking retreatants have already done so. 
El mes de noviembre en nuestro calendario católica se dedica a todos nuestros queridos difuntos. Hacemos memoria de ellos aquí en nuestro centro Pasionista, Mater Dolorosa, con un Altarcito del Dia de los Muertos.
Para nosotros Pasionistas, el puesto de honor es para nuestro fundador, San Pablo de la Cruz. A su alrededor, están las fotos de nuestros Pasionistas antepasados, nuestros seres queridos difuntos, especialmente los que han fallecido recientemente. Todos nuestros difuntos están recordados en nuestras oraciones Pasionistas y en nuestras misas.
Los invitamos a que nos manden los nombres de sus queridos difuntos para incluirlos sobre nuestro Altarcito del Día de los Muertos.